Ascension Island Marine Festival 2023
23 June 2023
Conservation, Government, Press Release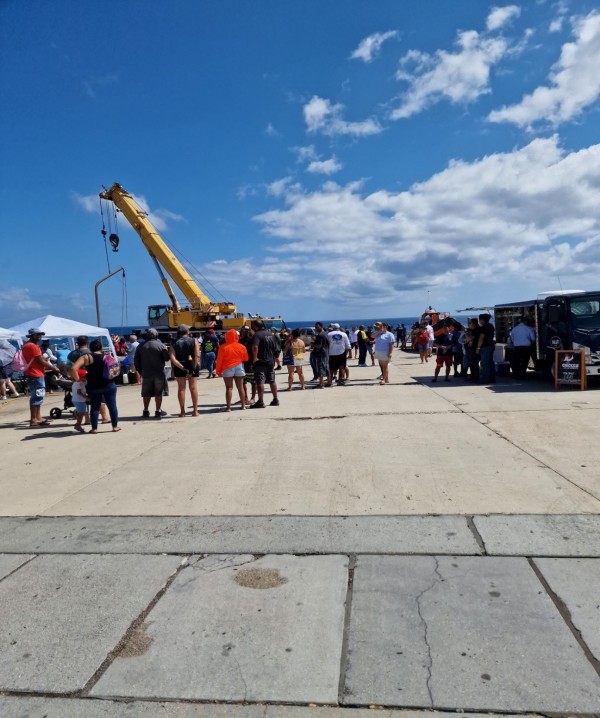 This year's Marine Festival was a big success, with almost 200 community members joining the AIG Conservation Team to celebrate Ascension's unique marine environment. The event was held on Saturday 10 of June at the Georgetown Pierhead.
The event started with AIG Conservation's annual fishing competition, with 37 participants, drawing crowds to the Pierhead as people gathered to watch the first fish arrive. The largest fish caught was a yellowfin tuna weighing 63 kg, caught on board the Lady Sara by Sam and Lionel.  Other winners for the day include:
Michael who caught a 29.1 kg wahoo.
Punch who caught a 28 kg amberjack.
Rico who caught a 4.3 kg eel.
Lucas who caught a 3.9 kg grouper.
Helen who caught a 6.7 kg black jack.
The competition was followed by an action-packed emergency display by the Sea Rescue Team and Police, with sirens, lights and high-speed boating.
An array of stalls sold a variety of locally handmade craft items, as well as a science tent with updates on our latest marine conservation projects. Excellent food was provided by the local catering team, "The DADs," who had a constant queue throughout the day, with ice-cold drinks provided by Saint's.
The theme this year was 'Deep Sea', following on from the RRS Discovery's expedition in November. The documentary, "The Voyage of Discovery," was premiered on the day, and summarises the vessel's journey to Ascension and St Helena. You can watch the full documentary here: https://www.youtube.com/watch?v=67mUxmATcjQ
Ascension's youth did an excellent job of running stalls and providing entertainment. The MPA Youth Committee sold cakes and ran several competitions, raising just under £100 for the day, which they will use to fund MPAYC Projects.
We still have some prizes in Conservation waiting to be picked up:
Amber- Obstacle course competition.
Jasmine - Art competition
Zoe - Art competition
Paul Austin - Casting competition
Bella Meth - Chalk Competition
Helen- heaviest other for rock fishing.
The Two Boat's Drama Club performed "Deep Sea Adventure," which followed Charles Darwin, Alfred Wallace and Steve Irwin in a submarine to the deepest part of the ocean, discovering new creatures along the way.  The event was closed by a beautiful rendition of "Under the Sea" by Ascension's Brownies and Guides (thank you to Ebony and Christiane for organising).
The AIG Conservation Team would like to thank everyone who contributed to making the festival a success, the day would not have been possible without the community coming together. We are also very grateful to the UK Government Blue Belt Programme and Blue Marine Foundation for providing funding for the festival.
We look forward to running the festival again next year - if you have any suggestions or would like to share your pictures, please email lorna.west@ascension.ac.gov or call 66403.