Ascension Island represented at the International Marine Protected Areas Congress (IMPAC 5) in Vancouver, Canada
21 February 2023
Conservation, Government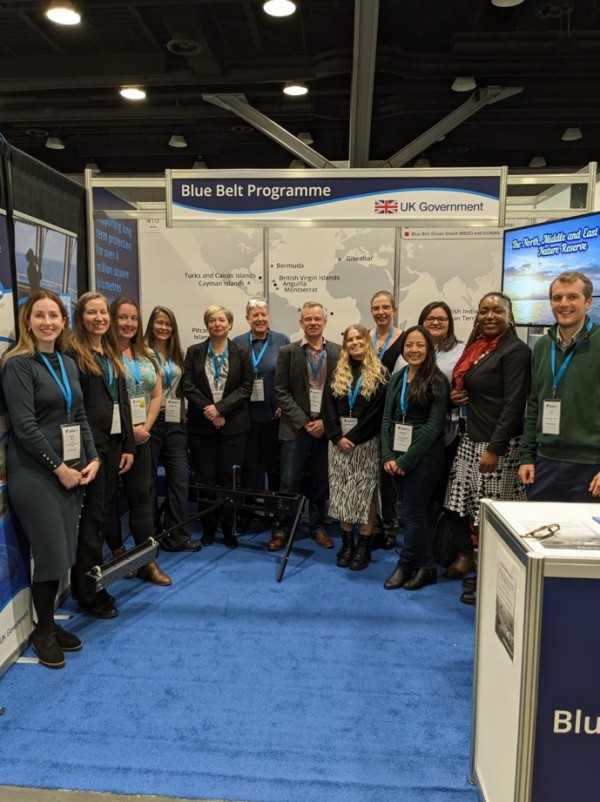 The International Marine Protected Areas Congress (IMPAC 5) was held in Vancouver Canada from 03-09 February 2023. AIGCFD scientists Dee Baum, Tiffany Simpson and Laura Shearer attended the congress to represent the Ascension Island MPA. They joined other members of the Blue Belt team including Liz Clingham from Saint Helena and several of the representatives who support us from the UK. The main objective of this conference was to bring together the global community of marine conservation managers, practitioners and decision makers to exchange knowledge, experience and best practices to strengthen the conservation of marine biodiversity and to protect the natural and cultural heritage of the ocean.
Dee provided several presentations throughout the congress. One of the talks was about how we are able to effectively research and manage Ascension's MPA from a small island with limited resources. This presentation featured videos starring the Two Boats School Drama Club and the MPA Youth Committee. The audience loved these videos. In fact, one man in the audience said the Blue Belt session was the best he'd attended. Dee also participated in a panel discussing the incredible satellite technology that we use to remotely detect illegal fishing.
Tiffany delivered a presentation in the Blue Belt side event that described some of our innovative research approaches including environmental DNA (eDNA), passive acoustic monitoring of ocean sound and citizen science. This led to really interesting discussions with others around the world using similar technologies.
Laura was involved in a panel discussion about out how satellite tagging of seabirds can help to inform how wildlife is using our MPA. This led to discussions about the value of protecting the high seas because our important species like seabirds, green turtles and migratory fish travel well beyond our MPA boundary.
Participating in this Congress really helped to affirm how Ascension Island is connected to a worldwide network of similar minded communities who value the importance of the ocean and work hard to protect it. There is so much to be learned from others but also so much that Ascension Island can share. As the world is endeavouring to protect 30% of global ocean by 2030, we can be very proud to be doing our part and continuing to safeguard our MPA and its important species and ecosystems into the future.
For more information about the Congress, please contact Dee, Tiffany or Laura at the Conservation office or MPA@ascension.gov.ac. Also, keep an eye on the social media platforms to see the videos that the youth of Ascension contributed to this great event.