Dr Judith Brown, Projects Director, and Clare Brook, CEO of Blue Marine, revisited Ascension Island from 20 to 25 November 2023. This was Jude's first return since her tenure as Head of Conservation and Fisheries from 2013 to 2017, while Clare had last visited in November 2016.
Their visit focused on maximizing the benefits for Ascension, home to one of the world's largest no-take marine protected areas (MPAs).
Clare Brook addressed the Ascension Island Council, highlighting the island's contribution: "Ascension has made a gift to the world by protecting an area of exceptional biodiversity nearly the size of France. It's important that the world recognises Ascension and that the community benefits from having such exceptional marine protection."
In 2021, the Blue Marine Foundation established the Ascension Island Marine Protected Area Community Trust (AIMPACT) fund. The idea is for the fund to pay at least £60,000 a year (the amount that Ascension used to make from the sale of licenses to long-line fishing vessels), every year, in perpetuity, to be spent on things that benefit the Community, Heritage, Education or the Environment. But until now, the MoU had not been signed, so £160,000 was waiting to be spent.
Clare and Jude came to 'unblock' this funding. The MoU was signed by Clare and the Administrator, Simon Minshull. A committee on the island will receive ideas from anyone with a good plan on how the AIMPACT funds should be spent and then decide on the best/most feasible proposals. All that Blue Marine requests in return is that people remember that the money is there due to the MPA.
Jude and Clare were delighted to meet so many people on the island including the Administrator, the Head Mistress, the US base Commander, the Head of Operations, the Conservation Team and the Fishers Association. 'Everyone has been so welcoming', said Jude, 'it's wonderful to come back'.
Clare and Jude visited some of the island improvements that Blue Marine has funded over the years, including the restored Turtle Ponds, the steps up to the top of Green Mountain, the science lab in the school, and the Long Beach Hut. They said, 'It's been our pleasure to support Ascension over the years. It's such an extraordinary place that now has some of the most pristine waters on earth, thanks to the MPA. Ascension has a very special place in our hearts. We can't wait to come back and see you all again!'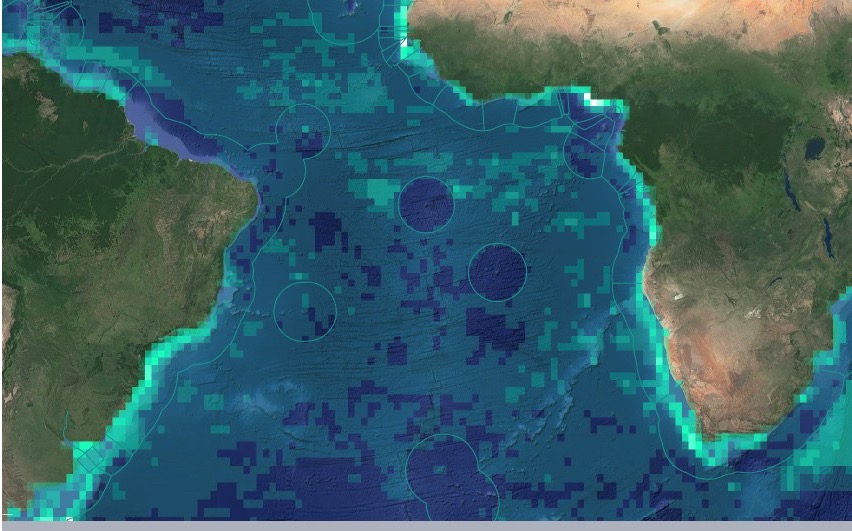 This snapshot from Global Fishing Watch shows how well protected, and how huge, Ascension's EEZ is. Lighter blue squares show fishing vessels – huge long-liners with up to 100km of baited hooks. Ascension's (and St Helena's) waters are completely free from industrial fishing. This is a model for the world and everyone on Ascension should be incredibly proud.