COVID-19 Booster Vaccines Arrive at Ascension
25 November 2021
Government, Press Release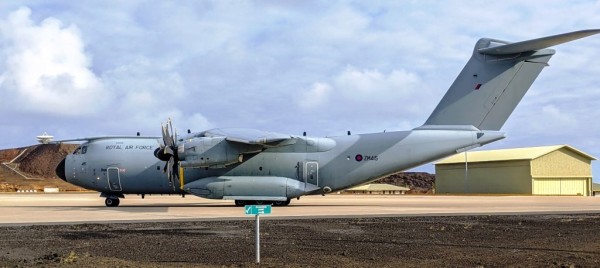 COVID-19 Booster Vaccines Arrive at Ascension
On Monday 22 November, a supply of 1,170 doses of Pfizer and 80 doses of AstraZeneca COVID-19 vaccine arrived at Ascension. These were delivered to the island on an RAF operational support flight. The delivery of these vaccines is the result of a joint AIG and cross UK government effort, involving the UK Health Security Agency (UKHSA, formerly Public Health England); the Department of Health and Social Care (DHSC); the Ministry of Defence (MOD) and the Foreign, Commonwealth and Development Office (FCDO).
Following the flight's short overstay in Dakar, extra verification checks have taken place to ensure that the vaccines and the cold-chain delivery system have not been compromised. The UKHSA has confirmed that the vaccines are safe to use.
Upon arrival the vaccines were transferred to Georgetown Hospital with the Pfizer vaccine placed into a newly purchased ultralow freezer at -79.6c and the AstraZeneca vaccine refrigerated in preparation for use.
The first stage of the Ascension-wide booster vaccination programme is expected to begin on Thursday 25 November and for the first time will include all those medically eligible from age 12 upward. There must be a minimum gap of 5 months between your previous COVID-19 vaccinations to be eligible to receive a booster shot.
Appointments to receive the vaccine have already been allocated to members of the public coordinated through Employing Organisations' HR teams. Due to the relatively small size of Ascension's population, it is anticipated that the initial tranche of booster doses will be administered over the next couple of weeks.
On the arrival of the supply of vaccines to Ascension, the Administrator HH Sean Burns said:
"I am pleased to see Ascension receive a further supply of COVID-19 vaccines to ensure the island remains as protected as possible. We have for the first time received the Pfizer COVID-19 vaccine which will enable us to offer even more protection to our younger residents on island.

The successful delivery of these vaccines is brilliant news and represents the culmination of hard work across several UK government departments, the RAF and within the AIG. I would like to thank everyone involved in making this happen.

The COVID-19 vaccines are the best method to combat the effects of this virus and we are grateful to continue to receive this supply. I encourage everyone aged 12 and over to come forward when requested to receive their vaccination."