COVID-19 Response Level Reduced to Level 1 AMBER
31 May 2022
Government, Press Release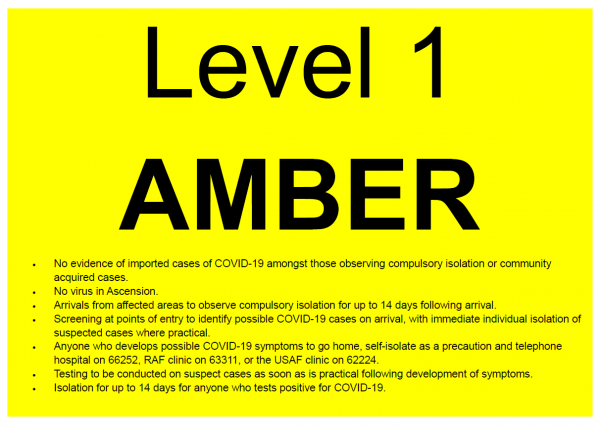 Further tests confirm previously positive individuals in quarantine now negative
Key messages
Two recent arrivals, which were in compulsory isolation when testing indicated a positive result for COVID-19, have subsequently tested negative for COVID-19.
Results from repeated testing conducted over the weekend indicate the individuals are negative for COVID-19 and are therefore no longer infectious.
The Response Level has been reduced to Level 1 AMBER.
On Wednesday 18 May two positive COVID-19 test results were returned from persons observing quarantine protocols. This followed a self-report of potential COVID-19 infection to authorities.
In line with Ascension's COVID-19 policies and procedures, the individuals were monitored by medical staff and subject to additional testing to confirm the level of their infections.
Further testing conducted on the individual in the last few days has returned multiple negative results and as such they are no longer deemed to be infectious or a risk to others. As of Monday 30 May, they have therefore had their period of compulsory isolation ended and the Ascension COVID-19 Response Level has been reduced to Level 1 AMBER.
As with previous escalations of the Response Level, AIG will review the Response Level Protocol in light of this escalation and will report any changes to the protocol that result from this.
As ever, anyone who develops a new persistent dry cough, a fever or experiences unexpected shortness of breath should go home, self-isolate and telephone Georgetown Hospital on 66252 for further advice.
Background
The persons in question had arrived at Ascension on Thursday 12 May on a flight from the UK. They had previously returned negative COVID-19 test results 72 hours prior to their departure for Ascension, and on arrival at the island. During their period of isolation they reported that they thought they may have COVID-19, which was confirmed following testing.
Tests conducted over the weekend and on Monday both individuals returned successive negative results. Given these negative results the Senior Medical Officer is satisfied that there is no risk to the public from the previously positive persons, and as such their period of isolation has ended.
This is a scenario that AIG had planned and prepared for. Robust measures for effectively managing arrivals to Ascension have been in place throughout the COVID-19 pandemic. These protocols have been developed in liaison with experts from the UK Health Security Agency (UKHSA) and are designed to ensure that any person arriving at the island is kept separate from the general public until the Senior Medical Officer can be assured that they do not pose a risk of introducing COVID-19 into the community.
Even though the individuals that tested positive had not had any contact with the wider public, and therefore COVID-19 was contained, the level of risk to Ascension from COVID-19 had increased and as a result the response level was raised. Following the negative test result and confirmation that the threat from COVID-19 had reduced, the response level was returned to Level 1 AMBER.