COVID-19 Response Level Remains at Level 2 ORANGE
21 January 2022
Government, Press Release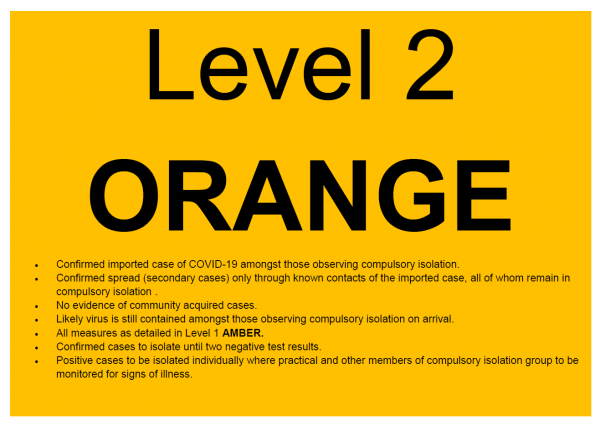 One positive individual currently in compulsory isolation
Key messages
One positive individual has been identified during routine testing of persons observing compulsory isolation.
Three previously positive individuals are now negative and have been released from quarantine.
The Response Level remains at Level 2 ORANGE.
On Wednesday 19 January, an individual observing compulsory isolation measures returned a positive COIVD-19 test result during routine testing of persons under quarantine.
As the individual was observing compulsory isolation within a bubble, they have been placed into individual isolation and will have their conditions monitored by medical staff.
The three individuals that previously provided positive test results between 06 January and 10 January have since returned successive negative results and have been granted permission to exit compulsory isolation. Although the three individuals have provided negative results, due to the additional positive result identified earlier today the Response Level remains at Level 2 ORANGE.
Under Level 2 ORANGE measures, public venues and facilities remain open. As it is expected that the introduction of COVID-19 into the wider community has not occurred, this escalation is a precautionary measure and serves to ensure that a higher level of alertness is observed by authorities on the island and the general public.
Members of the public should continue to practise good cough and hand hygiene, and be alert to the development of any potential COVID-19 symptoms.
When additional testing confirms negative results and the Senior Medical Officer is satisfied that there is no longer a COVID-19 presence on the island, the Response Level will return to Level 1 AMBER.
Further information regarding this matter will be made available to the public in the coming days.
As ever, anyone who develops a new persistent dry cough, a fever or experiences unexpected shortness of breath should go home, self-isolate and telephone Georgetown Hospital on 66252 for further advice.
Background
The individual in question had arrived at Ascension on Sunday 09 January on a flight from the UK. They had previously returned negative COVID-19 test results on arrival at the island. As with all persons under quarantine, they were subject to testing as part of quarantine protocols ahead of being granted permission to exit isolation.
The result of this test was positive. The individual is currently asymptomatic and is otherwise well.
As they were observing compulsory isolation in a bubble, the other persons in that bubble will now also remain under quarantine and observation by medical staff.
The staff at Georgetown Hospital remain in constant liaison with experts in the UK Health Security Agency (UKHSA) to ensure that the individuals who tested positive receive appropriate support. Further testing will take place over the coming days to monitor their levels of infection.
This is a scenario that AIG had planned and prepared for. Robust measures for effectively managing arrivals to Ascension have been in place throughout the COVID-19 pandemic. These protocols have been developed in liaison with experts from the UKHSA and are designed to ensure that any person arriving at the island is kept separate from the general public until the Senior Medical Officer can be assured that they do not pose a risk of introducing COVID-19 into the community.
As a result, the individual who tested positive has not had any contact with the wider public. Authorities are therefore confident that the virus has been effectively contained and so has not been spread to others in the community.
Further Information
How has someone tested positive at the end of their quarantine period?
Quarantine protocols have been developed in liaison with experts in the UK Health and Security Agency (UKHSA). These protocols use both time in quarantine and testing to provide authorities with assurance that at the point of release, the risk of COVID-19 exposure posed by an individual has been effectively managed.
Given the way the virus works and the fact that testing is applied during compulsory isolation, it is possible COVID-19 illness to be identified at any point during the quarantine period.
What about the other people who were on the plane with them?
All those who arrived on the same plane have been subject to compulsory isolation and testing protocols. Authorities are assured that these protocols remain robust, and as such the other passengers have been permitted to exit quarantine following the completion of their isolation period and the return of negative COVID-19 test results.