COVID-19 Vaccine Arrives at Ascension
17 February 2021
Government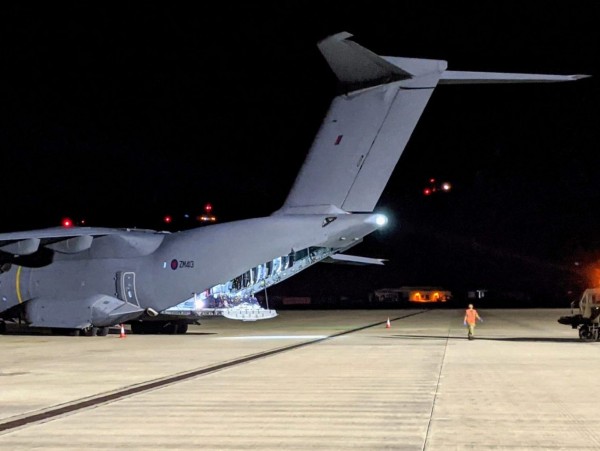 Supply of AstraZeneca vaccine delivered by RAF
On Tuesday 16 February, a supply of 1,950 doses of the AstraZeneca COVID-19 vaccine arrived at Ascension. These were delivered to the island on an RAF operational support flight. The delivery of these vaccines is the result of a joint AIG and cross UK government effort, involving Public Health England (PHE), the Department of Health and Social Care (DHSC), the Ministry of Defence (MOD) and the Foreign, Commonwealth and Development Office (FCDO).
Upon arrival the package containing the vaccines was sanitised in accordance with COVID-19 protocols, before the vaccines were transferred to Georgetown Hospital and refrigerated in preparation for use.
The first stage of the territory-wide vaccination programme is expected to begin today and will include frontline medical staff, emergency service workers and their dependents. Following this, vaccination of the general public will then commence.
Appointments to receive the vaccine have already been allocated to members of the public and will begin later in the week. Due to the relatively small size of Ascension's population it is anticipated that first doses will be administered to all those offered it by the end of next week.
On the arrival of the supply of vaccines to Ascension, HE Governor Philip Rushbrook said:
I am pleased to be on Ascension at this time to see first-hand the arrival and distribution of the vaccines. I would like to thank personally everyone involved in making this happen.

The successful delivery of vaccines is excellent news and represents the culmination of a lot of hard work across several UK government departments, the RAF and within AIG.

These vaccines are the best opportunity we have to combat the  effects of this virus and we are very fortunate to be receiving this supply. I encourage everyone to come forward when requested to receive their vaccination.
If members of the public would like any information on the COVID-19 vaccination campaign, or would like to discuss vaccination with a member of hospital staff, they can contact Georgetown Hospital by telephone on 66252 by email through bill.hardy@ascension.gov.ac.