COVID-19 Vaccine Campaign Strategy
12 February 2021
Government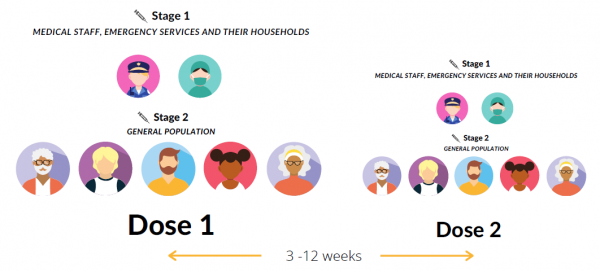 Territory-wide vaccination will commence following arrival of vaccine supply      
As announced on 27 January, Georgetown Hospital is expecting to receive a supply of the AstraZeneca COVID-19 vaccine shortly. Once the vaccines have arrived at Ascension and AIG has taken possession of these, the territory-wide vaccination campaign will begin.
Who will receive it?
AIG are expecting to receive enough doses of vaccine to allow it to be made available to all those within Ascension that are eligible to receive it. As such, it is being offered to everyone aged 18 years and older.
The vaccine is not currently approved by UK Medicines and Healthcare products Regulatory Agency (MHRA) for use by those aged less than 18 years old, and although further work is ongoing to assess the effectiveness of vaccines on this group, at this time they will not be offered the vaccine.
How will the COVID-19 vaccine campaign work?
Due to the relatively small population of Ascension it is expected that the entire eligible population will have been offered a first dose of vaccine within two weeks of the vaccine's arrival. Due to the scale of the COVID-19 vaccine campaign and the fact that Ascension fortunately remains free from COVID-19, only very limited prioritisation will take place.
The first stage of the campaign will see vaccines offered to frontline healthcare staff and emergency workers, and a number of individuals who are considered to be at high-risk of developing a severe illness were they to contract COVID-19. This is expected to take place in a single day. Following this the vaccine will be made immediately available to the general public through a system of allocated appointments.
For most members of the public, timeslots have been allocated to their employer, so that the employer will confirm appointments on behalf of their employees. This will allow for vaccines to be administered throughout the day whilst ensuring that critical island services continue to function effectively.
If members of the public have not yet been allocated a vaccine appointment time they should discuss this with their employer. If members of the public belong to an employer that is not arranging appointments on behalf of their employees they should contact Georgetown Hospital directly by telephone on 66252.
In order to develop the highest level of immune response to the vaccine two doses will be required. Staff from Georgetown Hospital remain in discussions with experts from Public Health England (PHE) about the most effective dosing regimen for the AstraZeneca vaccine. In order to determine what spacing between doses provides the maximum immune response PHE are analysing evidence from clinical trials and from the ongoing vaccination campaign in the UK. Although the final regimen will be informed by expert advice from PHE, members of the public can expect to receive the second dose between three and 12 weeks after the first.
Why get vaccinated?
COVID-19 vaccines provide the best form of defence currently available against contracting a potentially fatal COVID-19 infection.
Results of clinical trials show the AstraZeneca COVID-19 vaccine to be extremely effective in avoiding the most serious effects of COVID-19. Of those who received the vaccine in trials nobody developed a severe COVID-19 illness and nobody was hospitalised due to COVID-19.
Getting vaccinated could therefore save your life were you to be exposed to COVID-19.
What is the AstraZeneca COVID-19 Vaccine?
The AstraZeneca COVID-19 vaccine was approved for use by the MHRA on 30 December 2020, having demonstrated up to 90% effectiveness in protecting against COVID-19 infection amongst those who participated in clinical trials. This means it has passed a rigorous testing and development process and has shown to meet the strict standards of safety, quality and effectiveness needed for it to be deployed.
Although the AstraZeneca vaccine is made from a weakened version of a common cold virus, it cannot cause illness, and is able to be stored at fridge temperature making it easier to distribute than some other COVID-19 vaccines.
As of Wednesday 09 February, over 13 million people in the UK have received their first dose of COVID-19 vaccine, which includes both the AstraZeneca vaccine and the Pfizer BioNTech vaccine.
Will the vaccine rollout change the COVID-19 protocols in place?
Whilst vaccination will offer individuals high levels of personal protection, more information is required as to the ability of those who have been vaccinated to pass on COVID-19 were they exposed to it, even if they do not develop a significant illness themselves as a result of them having been vaccinated. As such, for the time being AIG is not considering any major changes in the policies and procedures in place for managing arrivals to Ascension.
For life to return to a pre-pandemic normality a large proportion of the world's population will need to be vaccinated. If these vaccines remain effective in stopping individuals experiencing severe COVID-19 illness, it is hoped that eventually COVID-19 will cease to be a life threatening virus and instead will become one which, although potentially unpleasant, can be effectively managed much like the flu.
However, AIG will continue to work with experts in PHE to monitor the developing understanding of the impact widespread vaccination has on the virus and may adapt the COVID-19 protocols currently in place in the future if satisfied that it does not place the community at increased risk.
If members of the public would like any information in the meantime, or would like to discuss vaccination with a member of hospital staff, they can contact Georgetown Hospital by telephone on 66010 by email through bill.hardy@ascension.gov.ac.