Darwin Plus Climate Change Project for Ascension
5 June 2020
Conservation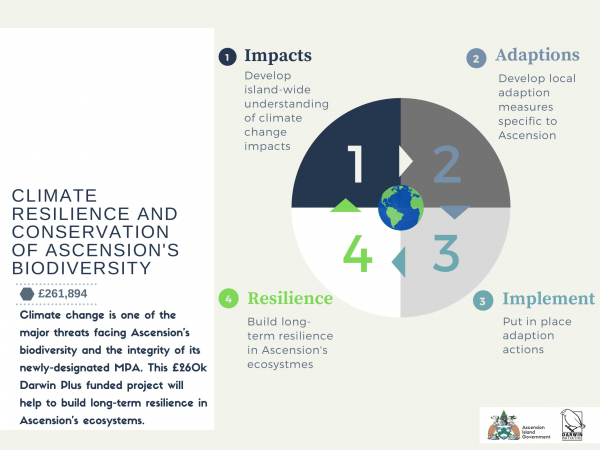 The UK government has awarded £261,894 to fund a project on Climate Resilience and Conservation of Ascension's Biodiversity (CRACAB).
Climate change is one of the major threats facing Ascension's biodiversity and the integrity of the territory's newly-designated Marine Protected Area (MPA). The CRACAB project will enable us to make predictions about the specific local impact climate change will have on Ascension's wildlife and put in place adaptation actions to reduce these. Many of our most precious species, such as green turtles and the Ascension spurge, could be significantly affected by climate change and we want to act now and do all we can to prepare for the challenge.
Officers from AIG's Conservation and Fisheries Directorate will be working with expert colleagues in the UK to deliver this project over the next three years.
The Darwin Initiative is run by the UK government's Department for Environment, Food and Rural Affairs (DEFRA), and since 1992 has funded 1,200 projects from 159 countries, with a value of over £177 million. Darwin Plus is a strand of the initiative that specifically focusses on environmental projects in Overseas Territories.
Ascension has previously benefitted from Darwin Plus funding to collect data on our marine environment ahead of the MPA designation and to build the island's biosecurity capability, amongst others.