Governor Visits Ascension
18 March 2020
Government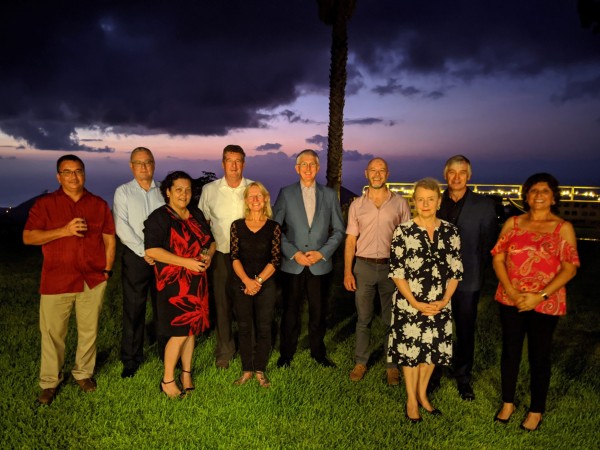 On Saturday 14 March the Governor, His Excellency Dr Philip Rushbrook, arrived on Ascension for an official visit. The Governor had originally intended to spend five days on island but regrettably had to reduce the length of his visit to two days. This marked the Governor's second official visit to the island since taking office in July 2019.
The Governor hosted a public meeting at Two Boats Club where members of the public were able to put questions to him regarding Ascension's preparedness measures for the ongoing COVID-19 pandemic, the upcoming Wideawake runway reconstruction project and potential further education provision, amongst many others.
Dr Rushbrook also met with the heads of the island's employing organisations and hosted a dinner for the elected members of the Island Council and their partners.
On his visit Dr Rushbrook said:
It was wonderful to be able to return to Ascension eight months after my first visit. I was glad to be able to engage with the Island Council, island employers and directly with the public whilst on island. It was pleasing to see preparations finally beginning for the first phases of the long awaited runway project, as well to hear about the island's preparedness measures that are in place for the ongoing pandemic.

Although I would have liked to have been able to spend longer on Ascension, I expect to be able to return before the end of year.
Before returning to St Helena on the inter-island air service on Sunday 15 March, the Governor conducted a swearing in ceremony for Sean Burns, Ascension's new Administrator. This was in preparation for Sean taking over official duties on Tuesday 17 March, from outgoing Administrator Steven Chandler. The Governor welcomed Sean and thanked Steve for his excellent service leading the wide breadth of work the administration undertakes every day.