Green turtle nesting season round up
20 July 2023
Conservation, Government, Press Release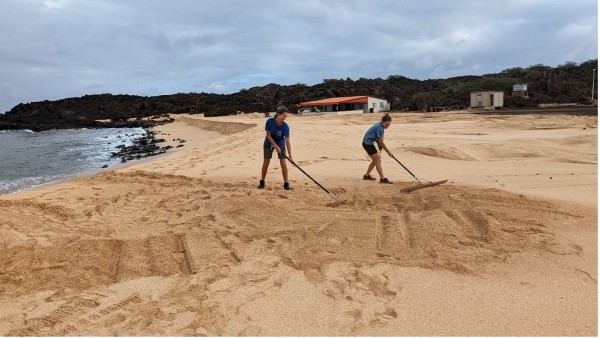 Annual update 2022/2023
Ascension is one of the most important nesting sites in the world for the endangered green turtle (Chelonia mydas), with turtles nesting on Ascension between December and July annually. With July now upon us, we are now celebrating the end of another successful year of sea turtle monitoring. Between these months the AIG Conservation Interns conducted a combined total of 92 count surveys across Long beach, North East Bay and Pan Am Nature Reserves, with a total of 250 hours spent on the beaches counting and raking tracks and nests.
The Conservation Interns conducted four weeks of nightwork across four months- deploying data loggers to record the temperature within 60 nests. The Interns spent a further four months excavating these nests to recover the loggers and observe hatching success on these beaches. As the sex of turtles is determined by the temperature inside a nest at the middle third of development, this ongoing data will contribute to our understanding of how climate change may be impacting Ascension's turtle population.
Some highlights of this season were returning 141 stranded turtles back to the sea and welcoming the Ascension MPA Youth Committee for their own turtle tour and for their help with one of the nest excavations.
The AIG Conservation and Fisheries Directorate would like to thank the 118 people who attended turtle tours across 15 weeks to safely observe the spectacle of turtle nesting and learn more about Ascension's turtles. Finally, we would like to say a huge thank you to the 14 volunteers who donated a combined total of 67 hours to assist with the raking of beaches to help our monitoring project, all your help was greatly appreciated!
A special thanks to the Blue Marine Foundation for funding the Conservation Internship Programme which has allowed this long-term turtle monitoring to continue.