International Programme makes new marine barge possible
26 June 2023
Government, Press Release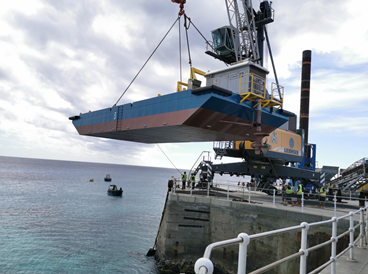 Thanks to International Programme (IP) funding provided by FCDO (Foreign, Commonwealth & Development Office), Ascension Island Government will once again have three usable barges of its own for ship unloading and backloading.
Currently AIG has only two usable barges for processing vessels like the FIRS and relies on the kind assistance of Wolf Creek to provide a third barge (as at least three barges are needed to unload a vessel efficiently).
However, thanks to IP funding, AIG have been able to order a new barge from Manor Marine, an OEG Offshore Company, after completing a competitive tendering process.
The new barge is expected to be on island in late 2023 or early 2024.