Joint Ministerial Council 2020 Concludes
26 November 2020
Council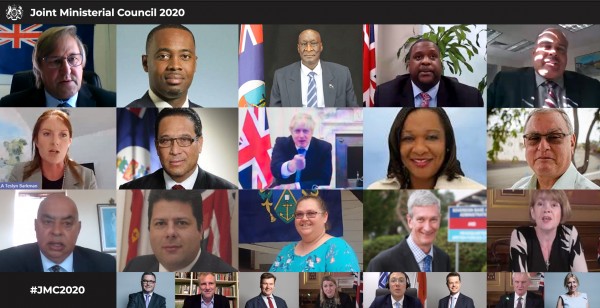 Following four days of fruitful discussions between elected representatives from the Overseas Territories (OTs) and the UK government, the annual Joint Ministerial Council (JMC) has concluded.
Due to COVID-19 this was the first JMC to be hosted remotely, with representatives joining digitally from across the globe across the four days, and was the first to be held since 2018 following previous postponements due to Brexit and COVID-19.
Several Ministers from the UK government joined discussions at the JMC, including UK Prime Minister Boris Johnson who spoke of the UKs ongoing commitment to the OTs, their futures and the deep historical partnership between the UK and OT governments. HRH The Prince of Wales also joined on the final day of the Council to express his support for the many excellent initiatives underway across the OTs to safeguard their unique biodiversity.
As well as attending each of the sessions, elected members of the Ascension Island Council were able to speak on the territory's effective response in tackling the threat posed by COVID-19, as well as highlighting the 2019 designation of the Ascension Marine Protected Area (MPA) and the substantial contribution this has made to protecting the global marine environment.
Following the conclusion of this year's JMC, the head of the Ascension delegation Councillor Alan Nicholls said:
"The annual Joint Ministerial Council provides a platform for elected representatives of the Overseas Territories to meet and discuss with UK government Ministers many of the issues that we face in common.

Although due to COVID-19 this was unlike any JMC that has gone before, we nonetheless were able to cover important topics such as environmental threats, climate change, COVID-19 support, safeguarding and mental health.

The Ascension Island Council looks forward to working jointly with the UK government over the coming year to ensure that the productive discussions had at this year's JMC translate into tangible action that the people of Ascension can see and ultimately benefit from."
Following JMC the OT and UK governments were pleased to publish a Communique reaffirming their joint commitments in the areas discussed during the week.