Marine Protected Areas Day
1 August 2023
Conservation, Government, Press Release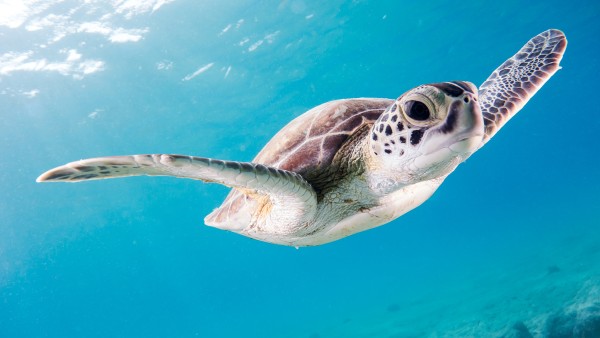 For the first time, students from three remote British islands in the South Atlantic Ocean have come together to share their love of the ocean for Marine Protected Areas Day (1 August).
Children from the UK Overseas Territories of St Helena, Tristan da Cunha and Ascension Island have produced and exchanged videos about their island life and their ocean. In making the videos, the children have learnt more about the unique marine environments and marine life surrounding their island homes.
With support from Tristan da Cunha's 'Atlantic Guardians' project (RSPB, Tristan da Cunha Government and Blue Nature Alliance), the Ascension Island MPA Youth Committee, and St Helena's National Trust, this knowledge exchange is the first time the young people across the Territories have come together to share their experiences and pride about their islands and marine environments.
The children from St Mary's School on Tristan da Cunha celebrated Marine Protected Area Day by watching the videos from their neighbouring islands. They created postcards and posed some questions to the other children about their marine environments. The children from Tristan and St Helena also made and shared marine themed comic books about plastic pollution.
A student from St Mary's School on Tristan da Cunha said "What we love about our island is the freedom we have and how we all help each other. Our ocean is enormous and mysterious, and we rely on it for our food. There is so much yet to be discovered."
A member of the Ascension Island MPA Youth Committee said "It's a unique place because it's so small and everybody knows each other. It's an open and safe area and it's a simple lifestyle here. I love this island because of the beaches and the sea, there's lots of things to see when you swim in the ocean".
Andy Schofield, RSPB Government Partner Territories, Programme Manager, said "We hope this video exchange will be the first step in creating a South Atlantic Marine Schools Network where lesson plans, marine themed events and experiences can be shared across the island communities to help them better understand their marine environments and stand together to protect them. Getting the children involved in marine conservation from a young age will help to secure the next generations of custodians for their Marine Protected Areas. We hope that this is the start of a future of cross-territory working where each island feels a kinship to being guardians of the Atlantic".
A student from Pilling Primary School, St Helena said "St Helena is special because you can swim or snorkel and see endemic fish, like the green fish."
Within the last decade, these three islands have designated their waters as Marine Protected Areas, meaning they have clearly defined areas of water that are protected and managed to safeguard their marine life and livelihoods.
The marine life across the territories includes Whale Sharks in St Helena, Green Turtles in Ascension, and Northern Rockhopper Penguins in Tristan da Cunha.
In 2020, the small Tristan community of around 250 residents designated 91% of their waters, 690,000km2, as a Marine Protection Zone, the largest in the Atlantic Ocean and nearly three times the size of the UK. Albatrosses soar over the waters, seals cram onto the beaches, sharks patrol the giant kelp forest and whales lurk in the deep. Fishing and the export of Rock Lobster makes up over half of the island's economy so sustainable fishing managed by residents is allowed in the inshore fishing zones.
In 2019, Ascension Island designated the entirety of its Exclusive Economic Zone, 445,000km2, as a Marine Protected Area, where all large-scale commercial fishing is prohibited and no fishing of any kind other than licenced research fishing will be permitted beyond 12 nautical miles of the island or extraction is permitted. It's home to over half a million breeding seabirds including the Ascension Island Frigatebird. Its sandy beaches support the second largest population of nesting Green Turtles in the Atlantic.
In 2016, St Helena the 200 nautical miles surround the island as a Category VI (Sustainable Use) Marine Protected Area conserving their marine life and cultural traditions for future generations.  It's home to endangered Whale Sharks, Humpback Whales, dolphins, tuna and breeding Storm Petrels, boobies, terns and noddies.
Simeon Archer- Rand, Programme Director for the UK Government Blue Belt Programme said:
"Collectively the three UK Overseas Territories in the South Atlantic have designed over 1.5 million km2 of ocean as Marine Protected Areas – safeguarding amazing marine environments from underwater volcanoes and coral reefs to rocky shores and cliff stacks crammed with breeding seabirds! They're protecting endangered marine life including penguins, albatross, turtles and Whale Sharks. These small remote communities are setting an example to the rest of the world on how to take bold steps to conserve our oceans!"
Lorna West, MPA Engagement Officer for Ascension Island Government said,
"I couldn't be more proud of the MPA Youth Committee. They are always keen to get involved in protecting Ascension's wildlife, whether that's cleaning a beach, removing invasive weeds, raising environmental awareness, or learning more about the local wildlife through tours and scientific talks. The South Atlantic Marine Schools Network is a fantastic platform for them to express their joy and passion for Ascension's unique marine life, collaborating with like-minded children across the Atlantic to safeguard our ocean. I am very excited to see where this project will lead..."
Sheena Benjamin, Education and Outreach Officer, St Helena National Trust said,
"On St Helena we are proud of our Ocean Literacy programme that we are establishing and embedding in school curriculum and the wider community, from lessons to events and resources which we will continue to build on. We are excited about this Network which is a great platform to share and learn more from our sister islands and the Atlantic MPAs. We have enthusiastic children who are on the journey to become great advocates to promote and protect St Helena waters."
Videos
Picture Credits: Rodrigo Argenton, Andy Schofield and Patrick Doll