Public COVID-19 Vaccinations Begin
18 February 2021
Government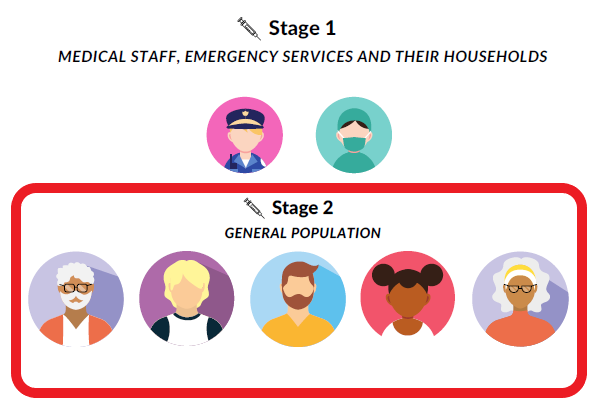 COVID-19 vaccinations offered to general public from today
Following completion of the first stage of the Ascension-wide COVID-19 vaccination campaign, COVID-19 vaccines are now being offered to all members of the public.
This is the main stage in the Ascension COVID-19 vaccine rollout. The first stage saw vaccines offered to frontline healthcare staff and emergency workers, and a number of individuals who are considered to be at high-risk of developing a severe illness were they to contract COVID-19.
Members of the public should have already been allocated an appointment to attend Georgetown Hospital to receive their first dose of the AstraZeneca COVID-19 vaccine. It is expected that all those offered will have received the first dose of the vaccine within the next two weeks.
In order to develop the highest level of immune response to the vaccine two doses will be required. Staff from Georgetown Hospital remain in discussions with experts from Public Health England (PHE) about the most effective dosing regimen for the AstraZeneca vaccine. In order to determine what spacing between doses provides the maximum immune response PHE are analysing evidence from clinical trials and from the ongoing vaccination campaign in the UK. Although the final regimen will be informed by expert advice from PHE, members of the public can expect to receive the second dose between three and 12 weeks after the first.
However, the two doses can be spaced up to 12 weeks apart so Georgetown Hospital will work with those unable to receive the second dose within three weeks to arrange an appointment for the follow-up dose.
The vaccine is not currently approved by UK Medicines and Healthcare products Regulatory Agency (MHRA) for use by those aged less than 18 years old, and although further work is ongoing to assess the effectiveness of vaccines on this group, at this time they will not be offered the vaccine.
So far 100 people in Ascension have received their first dose of COVID-19 vaccine.
If members of the public would like any information on the COVID-19 vaccination campaign, or would like to discuss vaccination with a member of hospital staff, they can contact Georgetown Hospital by telephone on 66252 by email through bill.hardy@ascension.gov.ac.