The Queen's Green Canopy
31 May 2022
Conservation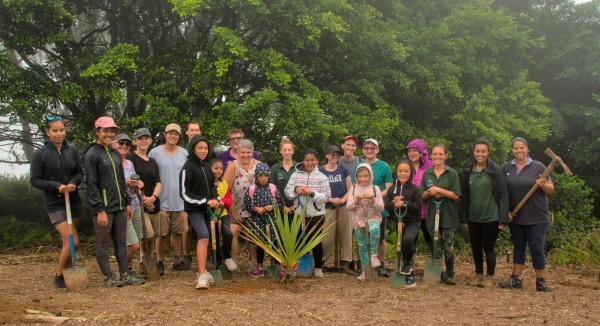 Planting a tree for the Platinum Jubilee
On Saturday 28 May, the Conservation and Fisheries Directorate, Green Mountain volunteers and Brownie and Guide groups took part in the "Plant a Tree for the Jubilee" initiative at Green Mountains Dew Pond area.
The Queen's Green Canopy tree planting initiative has been created to mark Her Majesty's Platinum Jubilee with a focus on planting sustainably to create a legacy in honour of The Queen's leadership of the nation, for the benefit of future generations. This initiative is taking place across the Commonwealth.
The planting of the Dew Pond's Green Canopy is hoped to expand the cloud forest range, which is an important habitat for Ascension's endemic plants.
Why plant non-native trees?
Today Green Mountain is a lush green space. Most of the plants found here are not native and were introduced in an experiment to create a unique, artificial cloud forest which aimed to increase the amount of mist and rainfall captured on the mountain to supply the people living on Ascension with fresh water.
However, the introduction of so many non-native species has been damaging for some of Ascension's endemic species. Green Mountain is home to six of Ascension's seven surviving endemic plants. Most of these endemic plants evolved to grow on damp, mossy, windswept rocks and cinder banks around the mountaintop. This habitat changed radically with the introduction of non-native plants. Thick cloud forests, dense thickets of invasive ginger and more now smother most of the upper slopes. Yet remarkably, some of the island's endemic plant species have adapted to survive in a new habitat with moss's and ferns growing on tree branches and bamboo trunks and larger ferns making an under story beneath the mature trees.
Not all the non-natives brought to the island became invasive and some are actually beneficial. With cloud zones rising higher in the atmosphere due to the effects of climate change, the trees which have been planted will allow the capture of cloud so the plants are still getting the damp habitat they need to survive.
AIG is working to maintain and connect areas of cloud forest that endemic vegetation can colonise, whilst removing the species it cannot coexist with. It is hoped Green Mountain will continue to support this unique and resilient habitat long into the future.
A huge thank you goes out to everyone who helped with Ascension Island's Queen's Green Canopy. This includes the Green Mountain weekend volunteers and the MOD for helping clear invasive species so the site was ready for trees to be planted, and to the Brownie and Guide groups that planted the trees out on the day. Thanks are further extended to Mitie, Carolyn Yon and Tony Green for supplying food and to the Administrator for officially opening the area.