Ascension Island was discovered by the Portuguese seafarer João da Nova in 1501, and was initially named Conception, before being rediscovered two years later in 1503 on Ascension Day by Alphonse d'Albuquerque, who gave the island its lasting name. Being dry and barren it was of little use to the East Indies fleets and went unsettled.
It remained uninhabited until Emperor Napoleon I was incarcerated on St Helena in 1815 when a small British naval garrison was stationed on Ascension to deny it to the French.The island was designated HMS Ascension, a "Stone Sloop of War of the Smaller Class".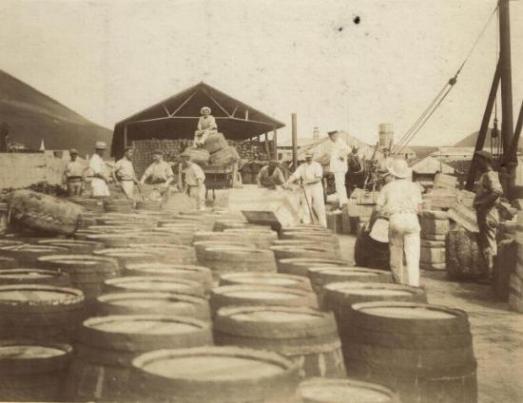 By Napoleon's death in 1821 Ascension had become a victualling station and sanatorium for West Africa Squadron ships engaged in the suppression of the slave trade around the West African coast.
In 1823 the island was taken over by the Royal Marines. It remained under the supervision of the British Board of Admiralty until 1922, when it was made a Dependency of St Helena by Royal Letters Patent.
It ceased to be a military only island in 1899 when the Eastern Telegraph Company arrived and established a mid-Atlantic communications hub. From 1922 until 1964 the island was managed by the Eastern Telegraph Company, which was renamed Cable and Wireless in 1934.
In 1964, in view of plans to establish BBC and Composite Signals Organisation stations, an Administrator was appointed by the UK Government. During the Second World War the St Helena Government was similarly represented on the island.
During the Second World War the United States Government, by arrangement with His Majesty's Government, developed Wideawake Airfield. From July 1942 to the end of the war in 1945 US planes transited Ascension Island destined for the North African, Middle Eastern and European theatres of war .
In 1957 a US presence was re-established, the airfield was enlarged and is now also the southeast tracking station of the USAF Eastern Test Range. In 1967 a NASA tracking station was built and supported the Apollo lunar landing programme. Although this station has since closed down NASA operations such as the Space Shuttle continued to be supported from Ascension by the USAF until it was taken out of service.
In 1982 the Island supported operations in the Falkland Islands and a RAF detachment continues to operate on the island in support of the Falklands garrison.